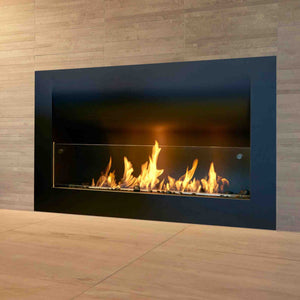 Bring warmth and style to your indoor or outdoor living space with an EcoSmart Bioethanol Curved Firebox! This innovative and eco-friendly fireplace uses sustainable bioethanol fuel, helping you do your part for the environment.
Intelligently designed for maximum heat output, flame enhancement, and safety, these fireplaces feature high-quality steel construction that seamlessly complements a wide range of building materials and finishes. This allows homeowners, architects, and interior designers to create a traditional or modern look, depending on their project requirements.
One of the key features of this fireplace is its unique curved design that radiates heat outward for full enjoyment and maximum fuel efficiency. The sliding glass screen is a safety barrier, ensuring your fire burns safely and brightly.
The black powder-coat protects the stainless steel firebox and provides dramatic contrast to the smoke-free flame. The clean-burning e-NRG bioethanol fuel boasts long burn times and low odour.
Curved Firebox