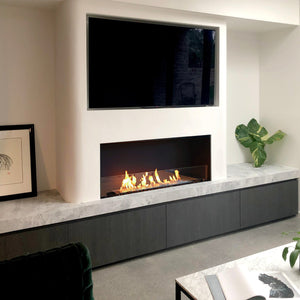 Discover the versatility and style of the EcoSmart Fire Bioethanol Flex Single Side Series. This series is available in 12 sizes, making finding the perfect fit for your space easy.
The Flex Single Sided is our most popular range and is perfect for use on a wall under a flat-screen TV, adding warmth and style to your living room.
The bioethanol fuel is eco-friendly, clean-burning, and suitable for indoor or outdoor use, allowing you to enjoy the warmth and beauty of a fire without any negative environmental impact.
Flex Single Sided