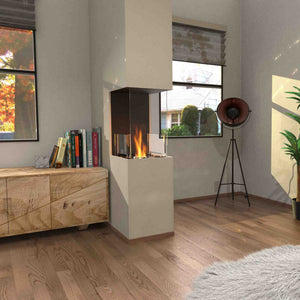 The Flex Bioethanol Fireplace Insert is designed to be a room divider with three open sides that allow the mesmerizing flame to be viewed from the front, back, and open sides.
This creates an eye-catching focal point and provides the ideal solution for heating multiple rooms, dividing open floor plans, and integrating into commercial or hospitality spaces.
Available in 12 sizes, the Flex Bioethanol Fireplace collection offers options for customization with decorative side boxes, allowing you to personalize your fireplace to match your style and needs.
A fireplace should provide warmth and enhance your space with style and ambience. The Flex Bioethanol Fireplace Insert offers functionality, style, and sustainability, making it the perfect choice for your home or business.
Discover the beauty and versatility of the Flex Bioethanol Fireplace Insert by browsing the EcoSmart collection today!
Flex Peninsula