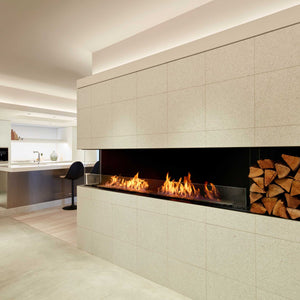 Bring a touch of elegance to any space with the EcoSmart Fire Left Corner Bioethanol Fireplace Insert!
This stunning fireplace insert features two open sides and transparent glass on the left corner, allowing the mesmerizing flames to be viewed from both the front and left sides.
This gives interior designers, homeowners, architects, and builders the flexibility to customize their fire solutions to fit their floor plans perfectly.
The sleek and stylish Flex Firebox turns any wall into a beautiful focal point. The EcoSmart Flex Open Left is the perfect solution for enhancing your indoor or outdoor space.
Ideal for residential and smaller commercial and hospitality spaces, this fireplace insert is sure to leave a lasting impression. Don't wait; elevate your space with EcoSmart today!
Flex Open Left