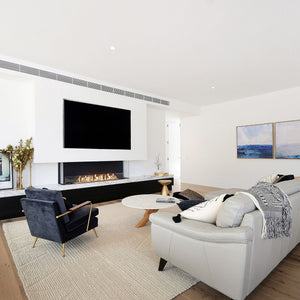 Looking for a stylish and captivating centrepiece for your commercial space or home? Our EcoSmart Bay Fireplace is the perfect solution.

The EcoSmart Bay Fireplace Insert features three open sides, allowing a mesmerising view of the flames from multiple angles. It's perfect for single-room installation and adds an alluring ambience to any indoor or outdoor space.

The Flex Bay is ideal for commercial spaces like restaurants, bars, and cafes, as well as residential settings where you want to create a stunning focal point.
With a sleek and modern design, these fireboxes will capture attention and add warmth to any room.

Browse our collection of fireboxes today and discover the perfect addition to your space.
Flex Bay